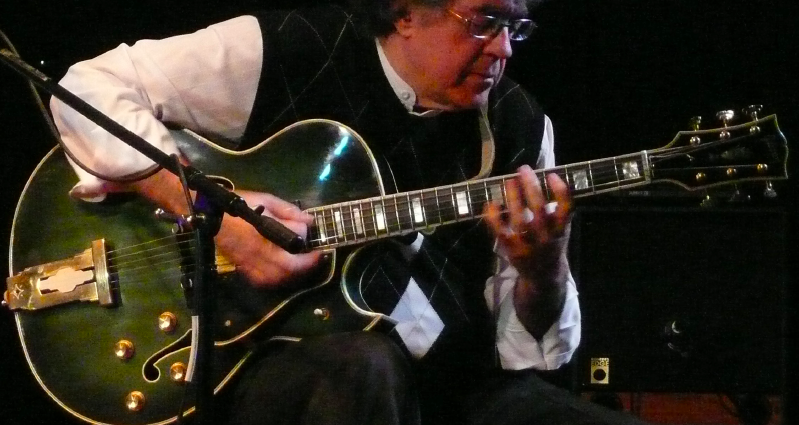 A Little History
Chuck started his concert jazz guitar career in 1973 when he formed the original Chuck Anderson Trio with bassist Al Stauffer and drummer Ray Deeley.
Their first album, "Mirror within a Mirror", received critical acclaim and was the springboard for a busy concert schedule.
The Trio's music featured Chuck's original writing as well as uniquely arranged jazz classics. The group's forte was a tremendous interaction and internal dialogue, with improvisation at the heart of every performance.
Two events would reshape Chuck's career
The first was the theft of his Gibson L5 guitar. That instrument had played an important role in the development of Anderson's technique and unique style. It was the one that had carried him through his studies with Dennis Sandole, noted Philadelphia jazz teacher.
Without his favorite guitar, Chuck found it difficult to perform. Though he tried other instruments, he was never able to recapture the magic of that first guitar.
Chuck turned to composition. He was totally absorbed in his writing for the next twenty odd years. This ultimately was a major factor in differentiating Anderson from other jazz guitarists.
One of America's greatest luthiers, Eric Schulte had taken care of Chuck's L5  since he first purchased it at the age of 19. He approached Chuck and asked why he was no longer giving concerts? Of course, he already knew but he had something in mind. He said, "Look I'll make you a deal. I know your L5 better than anyone. If you'll agree to go back and give concerts, I'll recreate your guitar". Chuck could hardly pass that up and agreed on the spot.
Months passed and the new guitar emerged. With guitar in hand, Chuck began to prepare for his return to the concert world. After a while, it became apparent that his former energy wasn't there. He thought that it was age or lethargy or … something. Without realizing it, Chuck had been suffering for a long time with a severe condition of Obstructive Sleep Apnea. He was literally walking and working asleep. This particular problem was robbing him not only of energy but also of oxygen. The sleep therapy began and the energy and enthusiasm of his early jazz days returned!
Combining brilliant technique with stunning originality, Chuck Anderson projects the soul of jazz to his audience. Original works, jazz classics and jazz blues are all transformed in every performance. The art of spontaneity has always been the hallmark of jazz and this spontaneity has become a trademark of his music.